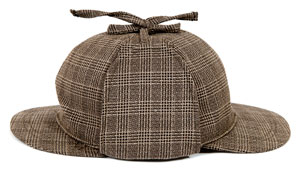 "It is a capital mistake to theorize before one has data."
- Sir Arthur Conan Doyle,  Sherlock Holmes novelist
Constructing a solid (business) case requires data—and lots of it. Let's take a look at the strategy behind our recent data collection efforts to see if we can learn from the master detective. But first, let's set the context for our story…
The Case of Person-Centered, Outcome-Based Care
For more than 100 years, North Central Health Care (NCHC) has played a prominent role in the health care of central Wisconsin residents. With more than 850 employees, NCHC serves individuals and families from its locations in Antigo, Merrill, Tomahawk and Wausau, providing a range of programs that encompass mental health, skilled nursing, addiction, crisis management, developmental disabilities, aquatic therapy and adult protective services. U.S. News & World Report ranks NCHC's nursing home facility among the top 10% in the nation.
NCHC has a mission to provide a level of care that is customized to the needs of individual clients with the ultimate goal of achieving successful treatment. To find the right balance between its mission, business model and marketing strategy, NCHC's leadership needed to understand a wide variety of factors that influence health care offerings and decisions, including:
Perceptions and attitudes of the organization 
Types of new service offerings that might be needed in the future 
Levels of service/care penetration in key market areas 
Needs and wants of referrers and how passage of the Affordable Care Act will influence all of the above
"Begin at the beginning."
When building a data-based business case, the planning stage is critical. For this project, and many like it, use the following approaches:
Construct a data collection strategy that employs a mix of primary research and the exploration of available secondary research sources 
We began with qualitative interviews and added in quantitative measures from a self-developed study of consumers as well as existing government and business research 
Define important target markets you wish to understand Work "back to the beginning" from the answers you seek 
Develop a master interview guide, segmented into key markets 
Plan multiple paths knowing you will run into some "dead ends" 
"Skill is fine, and genius is splendid, but the right contacts are more valuable than either."  
We contacted dozens of subject matter experts from the public and private sectors, as well as a dozen key referral sources. During this process, our goals were to:
Use telephone interviews to help plan for the collection of key data from secondary research sources, as well as the interpretation of those numbers 
Probe to gain insights from the targeted expertise and advise of our contacts Respect the time required to assist by using focused interview guides 
Be persistent - with busy individuals, a certain amount of this ingredient is essential
"It has long been an axiom of mine that the little things are infinitely the most important."
Ask for details up front. This will enable you to:
Establish formulas to construct estimates which could then be applied to population data 
Grasp the full implications that a more simplistic data collection methodology would miss 
Identify obstacles and work-arounds to the challenges of specific data sets and the goals of your research 
"It is of the highest importance not to have useless facts elbowing out the useful ones."
One of the greatest challenges of this type of project is to wrap your arms around the entirety of numerous detailed findings. Consider these synthesis strategies:
Look for the most important clues (or combinations) that point toward actionable insights 
To avoid "analysis paralysis," set a reasonable deadline for data collection efforts Work with an analyst that is comfortable with a less structured path to discovery
"[W]hile the individual man is an insoluble puzzle, in the aggregate he becomes a mathematical certainty."
In closing this case, keep in mind that you'll need to do your research before the research — plan it, structure it, segment by primary and secondary markets, as well as segment your research approaches.
And never fail to acknowledge your client. Congratulations to Gary Bezucha, CEO of North Central Health Care, for his visionary leadership and desire to build a solid plan based upon a detailed understanding of the markets. He offers some advice of his own, "The success of our organization is rooted in research, strategy, planning, adaptation, understanding and caring. We believe this is a formula that can benefit any business, and we thank TMA+Peritus for their efforts to build a stronger business case and more effective marketing execution."